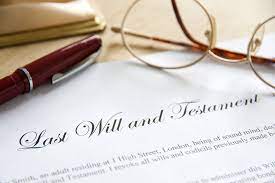 Do Not Overlook the Importance of Creating a Will
Having a will is essential for everyone, for their peace of mind. However, many people don't get their will made on time, assuming it to be a time-consuming and complicated job. But, having a proper will, that is legally recognized is a must if you want to protect your family or loved ones from a lot of trouble and lengthy procedure in court. If you don't have a will, the court will decide the dispersal of your assets depending on the state rules. If you have your will, all your assets will be divided according to your wish. 
A properly made will, allows you to list your assets,  appoint a trustworthy 'executor' to manage your affairs, a 'guardian' who will be the legal guardian of your children, a 'carer' to take care of your pet, 'Gifts in will' if you want to leave gifts for friends, charities, etc. 
When you have an executor for a will, he or she will inform banks and creditors if any, that you are deceased and will see to it that your assets and property are dispersed properly. If you don't appoint an executor, the court may do that for you and just about anyone can file a petition in the court to be an executor. Hence, it is better if you appoint a reliable person as an executor of your will. 
If you have young children, then it is vital to make a will, so that you can appoint a trustworthy person as the legal guardian to take care of your kids. Not having a will in place, will leave the decision to the court, which can create problems for your children. Also, if you possess several assets, you must divide them between your kids, as per your wish, and mention that clearly in the will.
How to Go About Creating a Will?
What if you come to know, that you can create a legally recognized will online, from the comfort of your home? Yes, you can do that on the website of Your Wills, an Australian company, supported by SLF Lawyers. They provide you with a convenient solution to create a will cost-effectively, conveniently, and quickly. You do not need to spend time meeting a lawyer face to face or discussing your options. 
As the complexities of creating a will the traditional way discourage many people from making a will, Your Wills, has simplified the process of writing a will to quite an extent. You just need to follow some simple steps such as filling in the executor's name, listing the assets and liabilities, appointing a guardian, carer, nominating loved ones whom you want to leave your assets, etc. 
Once you complete these steps, you will get a copy of your will and Your Wills will also email it to the mentioned email account. Then to officially legalize the will, you will have to sign each page of the will, in front of 2 witnesses and also get each paper signed by the witnesses and your will be legalized.
Don't delay the process of making your will any further, and create it easily and quickly on the website of Your Wills.